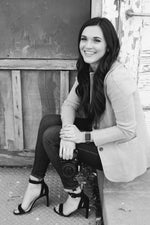 Hey! I'm Taylor -- owner of 1440 Togs and professional, published wedding photographer nearing the end of my 9th season.
Throughout my career I've helped brides, seniors, and moms pick trendy, timeless, and chic clothing to wear in their engagement, family, and senior portraits. I know what photographs well and I'm here to help solve the "what do I wear to our shoot" question. 
As 1440 Togs grows, you'll find larger selections, bridal finds, and more. Loungewear, workwear, casual, & chic clothing for every minute of your day. Always curated with life, mixing, matching, and your photography session in mind.